A revolutionary decade for pop music and culture, 80s interior design trends were as bold as the fashions. Not all of these trends stood the test of time and quite rightly so - carpeted bathroom?!
As loud and exciting as the 80s were, full on neon walls, stripes and spot combinations wouldn't help sell houses today but some 80s decor is working its way back into our homes in an understated way; these subtle salutes to the 'me-first' generation can individualize modern homes without the shock factor.
Here's a selection of the 80s trends we remember with some examples of their quieter, modern-day alternatives…
1. Colour Everywhere
Decor, shell suits, cosmetics and hair - everything was brighter in the 80s. Color is such a subjective thing that it should be used carefully, especially if you're preparing to sell your home. We think this pop of rainbow on an otherwise neutral home office wall is a nice way to keep the sentiment of a great time alive. It's also not difficult to reverse should you need to.

Source: Homedit.com. Accessed: 26.01.2023.
Similarly, if you're concerned about using bright colors on walls, you can channel the 80s using artwork, furniture and accessories with different patterns and shapes. This could be a great idea for a recreation or family room for families with older kids.
Image Credit: Chloe Berk for Hunker
2. Houndstooth and Checkerboard
Houndstooth made for a real power statement suit in the 80s and many households proudly sported bright-coloured, vinyl checkerboard floors. These design elements shouldn't be too offensive when used sparingly, but there can be too much of a good thing! Nowadays, a smart monochrome floor pattern like this one in a rustic-urban setting, really complements the space.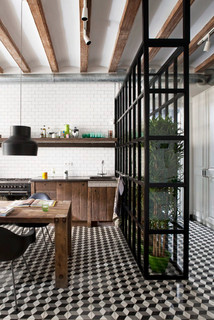 Enthusiasts need not despair just yet. In a bright and minimal space, a houndstooth or checkerboard accent piece can be the perfect finishing touch to a room, as shown in these examples;

Shower curtain - Walmart.ca. Accessed: 23.01.2023.
3. Pink Bathrooms
When we say pink, we mean the 80s were full-on pink - tiles, bath, toilet, accessories, the entire room was barbie-envy. There's no doubt that feminine touches help sell a home and make it feel less clinical but thankfully trends have moved on. A better way to incorporate pink in the bathroom could be a beautiful pale pink backsplash with a black geometric mirror…
Source: Wayfair.ca. Accessed: 23.01.23.
Or a timeless blush and grey combination with brass fixtures…
4. Wall-to-Wall Shag Carpet
Well there's no easy way to put it but we don't think that this trend will return in any form. Oversized pile carpet made its debut in the 50s as the flooring of choice and ultimate status symbol of the well-off. Plush wall-to-wall carpet was very popular through to the late 80s into early 90s before tastes changed. There are lots of reasons why carpet isn't favored by homeowners today; originally consumers were just wanting something different to what they'd grown up with and more recently, so many more options and a greater awareness of the benefits of hardwood and other hard floors. Neutral, hardwood floor is not only more practical for busy lives and those with pets and allergies, but it's a sure fire way to add value to a home.
5. Mixed Pastels
The 80s made us choose which side we were on - neons or pastels. Pastel pink, mint green and purple was not an uncommon mix even in one room but it's probably not a design route you want to go down if you're thinking about resale. In the kitchen, so many accessories and appliances come in retro pastel colors now that you can add a lovely hint of color while keeping the cabinetry neutral. A sage green kitchen is another compromise which is a popular choice for modern farmhouse-style kitchens. Pastel purples also work beautifully in a bedroom combined with contrasting finishes, shapes and textures.
Lilac Bedroom Credit: House Beautiful. Sage Kithen Credit: Pinterest.ca.
6. Wooden Wall Paneling
Wood or teak effect full-on wooden paneling was a staple in 80s homes and worked well with the crocheted, frilly accessories and dark mahogany furniture that everyone liked. 80s paneling was certainly low maintenance but it made small rooms feel even smaller and more serious. Most people opt for a lighter approach to their walls these days, however there is a place for a barnwood or shiplap accent wall in the right place and property and it's possible to get a plethora of colors to compliment your home.
Shiplap Blue Wall Credit: Pinterest.ca.
7. Floral Prints
Large floral prints appeared everywhere in the 80s and like everything at this time, it was a case of go big or go home! It wasn't just a bold duvet cover but everything had to match - wallpaper, lampshades, curtains and cushions all got the floral treatment.
Floral as a trend hasn't gone anywhere, it brings a beautiful, feminine touch and romantic feel to a bedroom used moderately so things don't get too busy. You can see the difference in approach between the 80s and modern day floral trends below. The 80s bedroom was an actual catalog page out of Laura Ashley, a brand still known for their floral prints.
Laura Ashley Bedroom Credit: NYTimes. Floral Feature Wall Credit: Etsy.com.
Keeping 80s Decor Alive
Hopefully we've inspired you with some more subtle, scaled-back versions of 80s design trends that can work in the modern home without hurting anyones eyes and could actually help add value to your property.
For more inspiration and tips on all things real estate, sign up to our newsletter and reach out anytime for a property appraisal.